Upcoming Events
* For any questions about these and other special events please contact me at mail@lindabarneswriting.com
PD514 – Expressive Writing: Foundations of Practice
Instructor:  Linda Barnes, CJT   Sept. 21 – Nov. 15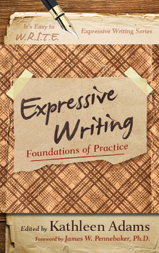 The inaugural book in Kay Adams' ten-volume expressive writing series articulates nine approaches to therapeutic writing that each represent the foundations of standards-based practice in the field. This visionary yet entirely pragmatic work offers perspectives and voices of eight master teachers on using therapeutic writing for developing emotional intelligence, assimilating and integrating acquired wisdom, and actualizing potential–key components for healing, growth, and change.  
PD Elective for CJF/CJT Trainees.  CEUs Available.
Required Text: 
Expressive Writing, Foundations of Practice by Kathleen Adams, Editor. Rowman & Littlefield (order from the publisher using discount code RLEGEN16 for 20% off, call 800-462-6420).
Summer Poetry Courses on line with the Therapeutic Writing Institute.
June 1 – June 28, 2017
Staycation Poetry: Let's share poetry about the pleasures of spending summer at home! Whether you garden, go to Little League games, have visiting friends or grandchildren, the joy of not traveling holds many treasured moments. Read and write poetry celebrating the contentment of staying home. No prior experience needed.
July 27 – August 23, 2017
Wanderlust Poems: We'll share reading and writing poems about the surprises of travel. Delayed flights? Long lines at Disneyland or the Louve? Wonderful new tastes and sounds? Foreign road signs? Whether your journey is far afield or over inner landscapes, travel generates lush material for poetry. No prior experience needed.